Let There Be Light
Last month we reported on Diwali, India's festival of lights celebrating the triumph of good over evil. Right now, Hanukkah candles are being lit around the world. It got us thinking – how prevalent are celebrations of light?
Very prevalent, it turns out. Join us on a whirlwind of festivals of light from around the world.
Hanukkah – The Jewish Festival of Lights
Following a great battle in 165 B.C. between the Jews and the Syrians, the Jews returned victoriously to their temple. There they discovered the Syrians had left them with only enough oil for their sacred lamp to stay lit for one day. The lamp, however, remained lit for eight days – long enough for a messenger to return with more oil. A candle is lit each of the eight nights of Hanukkah to commemorate this miracle.
Christmas – Various Countries
In Egypt members of the Coptic Orthodox church celebrate Christmas on January 6th and 7th. Churches are decorated with special lamps and candles and a candle is lit each of the four weeks of Advent. In the Philippines, the festival is marked by star lanterns called Parols. In Mexico during the nine days prior to Christmas, families engage in Las Posadas in which they replicate Joseph and Mary's search for lodging by going from house to house carrying candles. In European countries like France and Great Britain, families often burn Yule logs, a tradition that dates back to the pre-Christian celebrations of the Winter Solstice.
Thailand –  Loi Krathong Festival
In November, people in Thailand prepare for the new year by letting go of the old one. They prepare Krathongs, lotus shaped vessels made from banana leaves that each contains a candle, three sticks of incense, flowers and some coins and carry them to nearby rivers where they float away. Traditionally, the Krathongs are believed to carry away bad luck and suffering.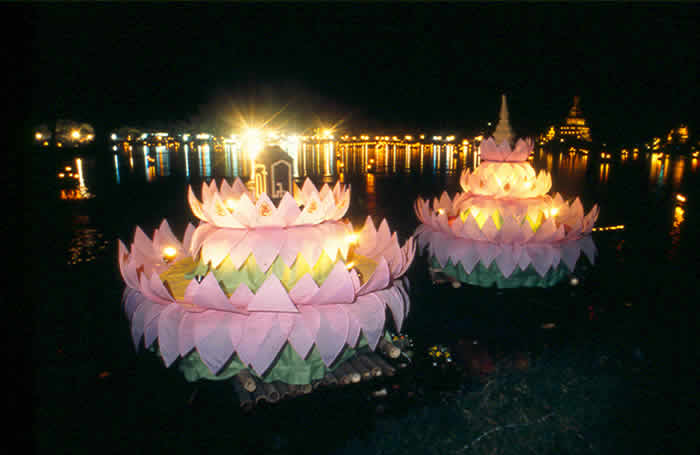 Sweden – St. Lucia's Day
Because December 13th traditionally follows the longest night of the year, Swedes celebrate it as St. Lucia's Day, in honor of the saint who wears a wreath of candles on her head. The eldest daughter of a family dresses as St. Lucia, in a white robe with a red sash and wearing a wreath of candles, and serves her family a special bun called Lussekatter.
Holland  – St. Martin's Day
On November 11th, children carry lanterns from house to house in honor of St. Martin, who was renowned for his goodness to those in need. They sing songs and are rewarded with treats like candy.
Lyon, France – Fête des Lumières
On December 8th of each year the citizens of Lyon place candles outside their windows to express their gratitude to the Virgin Mary for sparing their city from the plague. A tradition which began in 1643 now draws more than 4 million tourists to the city and runs around four days. In addition to the spectacular effect of seeing each home lit up, the Basilica of Fourvière and the Place des Terreaux serve as additional focal points.
---