Alexander McQueen: Genius Knows No Bounds
When you look back at the various collections of Alexander McQueen, you realize what a perfect title "Savage Beauty" was for the Metropolitan Museum of Art's 2011 retrospective of his work.
Dresses made of razor clam shells. Corsets made of aluminum rods fitted and bolted to the model. Antlers piercing a £2,000 piece of lace embroidery. Leather, of course. Buttock-revealing pants and skirts. Feathers – lots and lots of feathers. A collection called Highland Rape – which actually referred to England's rape of Scotland. A model on a platform being pelted with spray paint by two implacable robots. No one understood better than McQueen how to turn the presentation of his fashion collections into disquieting, exciting drama.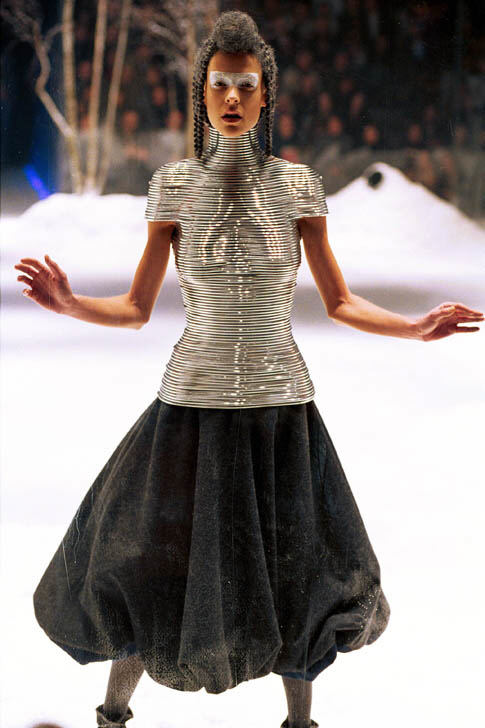 But underlying the "show" was the work of a meticulous craftsman. Trained as a tailor on Saville Row, he went on to work at various houses before being tapped as head designer at Givenchy in 1996. After leaving in 2001 to start his own line, McQueen said, "Because I was a tailor, I didn't totally understand softness, or lightness. I learned lightness at Givenchy."
He was named British Designer of the Year in 1996, 1997, 2001 and 2003. He was awarded the CBE – Commander of the British Empire – and named International Designer of the Year by the Council of Fashion Designers in 2003.
In February, 2010, six days after his mother's death from cancer, Alexander McQueen hung himself. In May it was announced that his brand would continue, headed by Sarah Burton who had been his head designer for fourteen years. We salute Ms. Burton, who wowed us with her gown for last year's Royal Wedding. But we will miss the savage genius and irrepressible showmanship of Alexander McQueen.
Check out some of the pieces our publisher Suzy took to Shanghai for the 2012 Elite Model Look World Final that were designed by Alexander McQueen.
main photo credit: here
---