Impressionism, Fashion and Modernity
If you find yourself in New York City between now and May 27th, you should definitely take time to visit the Metropolitan Museum of Art. Then make your way to the second floor to see the terrific exhibition titled Impressionism, Fashion and Modernity.
The show covers some of the most important years of the Impressionist era, a 20-year period beginning in the 1860's. With changes in methods for designing clothing and the rise of the department store, it was also a time that saw the birth of the modern fashion era. Naturally, these trends all came together in Paris.
The chance to view 80 major paintings by some of the most important Impressionist painters is, in and of itself, sufficient reason to rejoice. Several pieces have not been seen in the U.S. before. Edouard Manet, Claude Monet, Pierre-Auguste Renoir, Edgar Degas, Berthe Morisot and Mary Cassatt are just a few of the painters represented.
All these members of the avant-garde regarded changing fashions as harbingers of a new modernity. Painting them in various settings enabled them to experiment with new ways of depicting light and shadow. They were especially happy to break out of the traditional studio settings for portraits to work "en plein air" – in the open air. Luncheon on the Grass by Claude Monet is one of the earliest examples of how the artists took advantage of another new trend, "le weekend," to spend time in the countryside outside of Paris, made easily accessible by a newly modernized train service.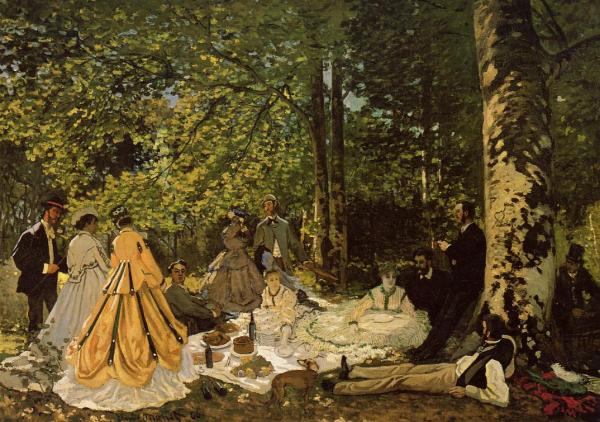 The beauty of the paintings is immeasurably enriched by the physical presence of the fashions from the era, including some of the actual gowns seen in the paintings. Gloves, fans, shoes, corsets, hats – even men's fashions – are judiciously scattered throughout the show. In addition to seeing the richness of the fabric and meticulous details up close, it's an opportunity to really appreciate the sweep of the crinolines, the absurdity of the bustle, and the slimness of a woman's waist.
And those were just the day dresses, suitable for picnics in the country or strolling the boulevards of Paris. It was hard not to compare them to the spectacle of the Oscars. Celebrities dedicate a day to executing the perfect look for that once-a-year trip down the Red Carpet. Parisian women of the late 19th century apparently put as much effort into a simple walk down the street.
In fact, if I were to change anything about the show it would be the title. It would more properly be called Impressionism, Fashion, Modernity and Paris.
---